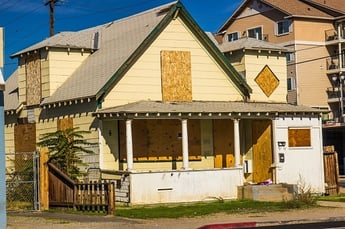 As reported by HousingWire, Fannie Mae recently sent a bulletin to services stating that it will no longer accept plywood boards as an acceptable boarding solution on the windows of its pre-foreclosure properties. In addition, servicers must also now replace any plywood boards found on existing pre-foreclosure properties as well.
The GSE is requiring servicers to replace any and all plywood boarded windows on homes in pre-foreclosure with clear-boarding (minimum of 3/16th inch) or replacement windows – acrylic and Plexiglas products are not acceptable. Servicers will have 90 days from the announcement's effective date—March 29, 2017—to re-glaze/repair or clear-board all unsecured and previously plywood boarded windows.
Fannie did state that its new anti-plywood rule doesn't apply to homes in REO status, and that plywood is still allowed for pre-foreclosure properties that meet very specific circumstances – such as if the home is severely fire damaged or in pre-demolition. Plywood is also still allowed on non-window openings, but servicers have been encouraged to reach out to the GSE on a case-by-case basis to ensure compliance.
As stated in Fannie Mae's announcement, servicers are allowed 7 days to secure a property—including re-glazing/repairing or clear-boarding windows—from the first time it is discovered vacant. If it's discovered that windows need to be re-glazed/repaired or clear-boarded any time after this initial secure timeframe, the appropriate work should be performed within 3 days of the discovery.
Where feasible, Fannie prefers that servicers re-glaze or repair any broken windows. That said, the GSE did note that servicers or field service vendors should determine the appropriate strategy on their own by considering the cost, number of windows, likelihood of additional breaks, etc. If a property with re-glazed/repaired windows is subsequently compromised, then clear-boarding must be used.
SecureView and InvisiBoard, which supply both clear-boarding and polycarbonate windows, have been approved for use by Fannie Mae.
Sources:
HousingWire – housingwire.com
Fannie Mae – fanniemae.com