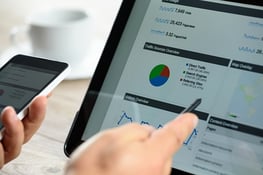 EVO™, Global DMS' innovative valuation technology for both commercial and residential real estate transactions, provides instant visibility over your entire appraisal process via its robust and configurable reporting capabilities, giving you the information you need to make decisions quickly.
The platform's unique report builder includes both built-in reports and the ability to create custom reports in minutes without the need of third-party developers – no tickets, no waiting, no hassle. Most importantly, these reports can capture data from any field within the system and your saved forms, keeping you on-top of every aspect of your appraisal process.
Through its powerful workflow engine, EVO takes your reporting one step further via its automation capabilities, which allows you to automatically run and deliver your saved reports as needed during any point in the valuation process. This on-demand approach is easily configured and ensures the availability of critical information that's accurate when it's needed most.
For more information, or to schedule a quick demo, contact Global DMS® today at evopreview@globaldms.com.