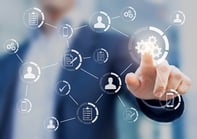 In today's real estate valuation industry, most lenders and AMCs typically follow their own unique appraisal process. Global DMS' EVO-Residential™ (EVO-Res™) platform was built with this in mind and is the only valuation technology on the market that's 100% configurable – allowing its end-users to customize all aspects of the software and its functionality in real-time, no development work required.
Workflow Automation Tailored to Your Business Model:
EVO-Res modernizes your appraisal process via its unparalleled workflow automation, which not only covers the entire process, but is able to fit any valuation business model thanks to its configurable design that puts the end-user in direct control.
Configurable Reviews, On Demand:
EVO-Res not only removes the burden of manual appraisal reviews by providing an automated process, it allows its end-users to easily self-configure their review forms on-demand, where they can make instant edits to existing forms or create new forms on the fly – which are immediately reportable.
Digital Forms in Templated Format:
EVO-Res removes the need for offline Word and Excel documents that can't communicate with your valuation technology by providing digital order and review forms that are completely customizable – allowing you to meet any given assignment.
Complete Visibility w/ Custom Reporting:
EVO-Res provides robust and configurable reporting capabilities, allowing you to build custom reports in minutes that are able to capture data from any field within the system – including those within your saved order and review forms.
Unlike its competitors, EVO-Res delivers this customization out-of-the-box for every field within the system – granting you far more control over your appraisal management workflow than ever before and eliminating the need for costly development work that can take weeks, if not months, to complete.
To learn more about the benefits of EVO-Res, contact us today at evopreview@globaldms.com.