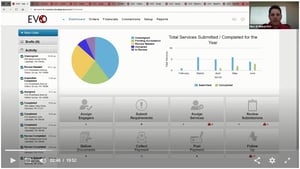 Global DMS® is excited to announce that we will be participating in NEXTSUMMER20's Technology Showcase event on Monday, August 24th at 11:45 am ET, which is designed to help mortgage industry decision makers identify the technology solutions they need to operate more efficiently and securely.
Our company will be highlighting its innovative and award-winning real estate appraisal management software known as EVO-Res™ – the industry's next-generation valuation management technology for today's mortgage lenders, AMCs, and appraisers.
EVO-Res™ provides state-of-the-art technological advances that not only automate the entire real estate appraisal process according to the end-user's specific needs and business model, they allow institutions to work the way they need to work via a role-based design – complete with separate dashboards and task lists that help drive optimal performance, facilitate timely communications, and ensure full compliance at all points of the process.
EVO-Res also empowers lenders, AMCs, and appraisers with a technological advantage over every other appraisal software on the market through its unprecedented configurability – allowing these entities to easily customize all aspects of the platform down to the field level, which can be added, renamed, or removed as needed in real-time.
Additional benefits:
Incredibly responsive system that supports massive files via a unique drag & drop feature.
Provides digital forms that can be easily customized, saved, and updated in minutes.
Provides robust appraisal reviews, on-demand.
Promotes complete visibility with custom reporting that captures every field and action taken.
In developing EVO-Res, Global DMS spent several years defining requirements, collaborating with clients, and analyzing best practices for every aspect of the real estate appraisal process. The platform's numerous features and powerful workflow automation mean users no longer have to operate additional modules or other software in conjunction with their appraisal management software – thus achieving a streamlined process that saves time and money.
Once you see EVO-Res in action, we know you'll be convinced. Sign up for NEXTSUMMER20 here and we'll see you August 24th at 11:45 am ET!
Can't make the event? Contact Global DMS today at evoinfo@globaldms.com.