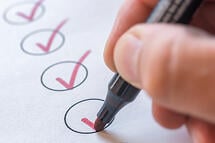 Appraisal compliance can be stressful, as a single mis-step can have catastrophic consequences on one's business. Because of this, it's essential for lenders and AMCs to ensure that their appraisal management processes remain complaint at all times to avoid both stiff penalties and increased turn-times due to correcting errors.
Global DMS' EVO-Res™ appraisal management software not only provides your organization with an unmatched technology foundation that's completely configurable, it protects your business against the many regulations that govern the appraisal industry – keeping your operations in full compliance at all times.
And now, with Global DMS' Compliance Guarantee Program, your business is covered! We're so confident that EVO-Res will keep your appraisal operations in full compliance that if an issue arises, we'll cover your fines – guaranteed.
EVO-Res users are protected by Global DMS' Compliance Guarantee Program against issues concerning Appraisal Independence Requirements, appraiser licensing, borrow receipt of the appraisal, and report and delivery to the GSEs. This unique program allows institutions concerned with appraisal compliance to effectively remove appraisal risk from the equation, while ensuring they comply with Dodd-Frank's Section 1471, ECOA's Regulation B, TILA's Regulation Z, USPAP, and both the GSEs and FHA's seller guides.
All EVO-Res users are eligible for this program, provided they're following Global DMS' Best Practice Configuration within the system, which promotes appraisal compliance through automation – such as automated license validation, vendor assignment, appraisal reviews, UCDP and EAD submissions, and more.
Implementing an automated valuation process through the use of status-driven triggers ensures compliance by eliminating manual touch-points that lead to human error and oversight. With EVO-Res, this automation is 100% configurable – allowing lenders and AMCs to customize and run their specific workflows as needed, in real-time.
For more information on EVO-Res' Compliance Guarantee Program, contact Global DMS® today at evoinfo@globaldms.com or 877-866-2747 (option 2).
How compliant are your appraisal operations? Find out by downloading our Ultimate Compliance Checklist.