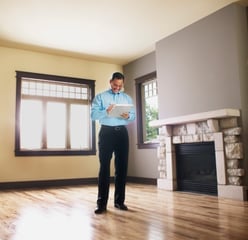 Valuation technology should be simple for all those involved in the real estate appraisal process, yet many platforms seem to disregard appraisers by requiring them to complete a lengthy registration process and then juggle different logins for each lender or AMC client they work with.
EVO™, Global DMS' latest valuation technology, is different in that it was designed to make everyone's daily process easier – including the appraiser's. Not only has EVO simplified the typical registration process, which only takes 3-5 minutes to complete, it provides appraisers with a single sign-on that can be used with any lender or AMC that utilizes the platform.
Once registered on the EVO Network, lenders and AMCs are able to locate an appraiser's profile and establish a connection (similar to social media) to begin sending new assignment requests for both residential and commercial properties. In addition, EVO also sends automatic email alerts to appraisers when it's time to update credentials – keeping them in compliance and receiving orders.
If you're a real estate appraiser and wish to sign up for Global DMS' EVO Network, click here.
If you're already a member of the EVO Network and need help managing a connection request from a lender or AMC, please use the following guide.