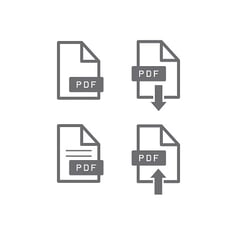 With the ECOA Appraisal Rule in effect for some time now, many within the mortgage industry understand the importance of delivering their appraisal reports to the borrower on time, every time.
However, there is another key mandate within ECOA that often gets overlooked, which requires lenders to also "obtain the applicant's consent [to receive an electronic copy of the document] under the Electronic Signatures in Global National Commerce Act (E-Sign Act)."
Whenever you deliver files to a borrower electronically (such as by email), the E-Sign Act in accordance with ECOA requires:
The applicant's consent to receive the document electronically.

The applicant must be provided with an accurate statement of the hardware and software requirements for successful receipt of the electronic document.

Confirmation that the applicant can download and view the PDF must be made prior to them downloading the document.
Global DMS' eTrac® valuation management platform has been equipped with the PDF Verification app, which ensures that each mandate above is always met. The app demonstrates a borrower's ability to open and view the electronic PDF copy of the appraisal report and also shows their acknowledgment that they are both able and willing to view PDF documents.
In addition, all downloads initiated by the borrower are then logged in eTrac for tracking and audit purposes to provide you with a permanent record of when they downloaded the appraisal report.
For more information on this valuable tool, contact us today at productinfo@globaldms.com.