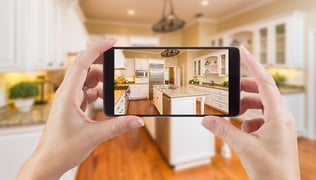 In the real estate valuation industry, reducing appraisal turn-times is always the goal for both lenders and AMCs who are looking to gain a competitive advantage over the competition. However, during these unique times we find ourselves in, many institutions have struggled to maintain an efficient process – even as COVID-19 restrictions are gradually lifted.
At Global DMS®, our focus is on providing the most innovative appraisal management technologies possible for today's environment and beyond, which is why we've integrated our eTrac® valuation platform with ProxyPics – a patented, secure mobile app that provides an efficient method of facilitating the delivery of photographs of a subject property directly from the home occupant.
Through this secure integration, eTrac users can automatically request and receive high quality pictures of both the interior and exterior of a subject property from the home occupant – who utilize the ProxyPics mobile app to take and submit the required photos back to eTrac for immediate use.
Other benefits include:
Fully automated process, requiring no additional oversight.
eTrac users never have to leave the platform.
Provides unlimited retakes, ensuring only high-quality photos.
Includes pre-set questions for the home occupant about the quality, condition, and unique characteristics of their home.
In addition, all real estate appraisers (regardless if they currently utilize eTrac) are able to obtain a free eTrac ProxyPics account – promoting safe social distancing, while allowing these professionals to continue working unimpeded.
For more information, check out the following webpage or contact Global DMS at productinfo@globaldms.com
Already using eTrac? Contact Global DMS Account Management at 877-866-2747 (option 4).