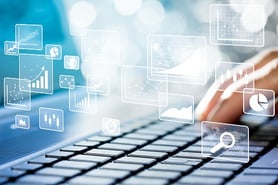 Technology integrations help ensure process efficiency by providing users with seamless access to valuable data. At Global DMS, we understand the importance of these integrations and strive to provide the data you need when you need it for all your valuations.
To achieve this goal, we have partnered with several best-of-breed data providers to render accurate property appraisals by utilizing in-depth, area-based metrics, trending, and other important factors that are not typically considered when underwriting loans.
Our eTrac® valuation management platform offers what we call the eTrac Data Store to all our Enterprise customers, where products can be used as needed in either one-off orders or inserted into their automated workflow.
Within the Data Store, several products are currently available, including:
AVMs

Data Analytics Products

Review Products
Users are provided with both pricing and descriptions of each product and are given the ability to view samples before they place their order. This not only helps to reduce unnecessary costs, it ensures that the right product is always selected.
For more information, contact us today at productinfo@globaldms.com.