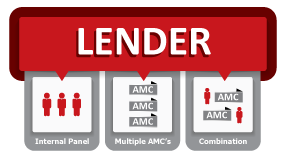 Valuation management software helps bring stability and greater efficiency to a lender, AMC, and/or appraiser's workflow. However, these systems can become counter-productive if they aren't configurable and able to match your specific business model.
This unfortunate norm not only frustrates your hard-working staff, it requires your organization to completely alter its appraisal process to accommodate the new system – leading to confusion, longer turn-times, and increased risk.
At Global DMS®, we believe software should adjust to your specific valuation process, not the other way around. Our eTrac® residential platform maximizes efficiency by allowing users to customize their own unique workflow within the system – no matter what business model they follow.
In-House Appraiser Panel Model:
There are many things to account for when utilizing an in-house appraiser panel, making it easy to accidentally miss something along the way. eTrac alleviates this pain-point by streamlining the entire valuation process, keeping everything in full compliance with little-to-no resources.
Automatic Appraiser Validation & Monitoring

Easy Appraiser Setup

Integration w/ Your LOS

Automated Appraiser Scoring

Detailed Reporting

Seamless UCDP® or EAD Delivery
Multiple AMC Model:
The common challenge for lenders that utilize this model is that many AMCs use different technology applications, which can hinder communications. eTrac provides a centralized platform that has the bandwidth to manage and track all your AMCs via automated alerts and notifications.
One Standardized System & Process

Customized AMC Distribution Logic

Score Cards for Each AMC

One Platform, Fully Integrated to Multiple AMCs & LOS Providers

Automated Appraisal QC/Review

Automated Communications & Notifications

Standard & Custom Reports
Hybrid Model:
For those that utilize both an internal appraiser panel and multiple AMCs, managing every aspect of this often-complex process can be quite cumbersome. eTrac easily manages and tracks both groups at the same time, providing specific workflows that can be configured for your in-house users as well as your third-party AMC users.
No matter what type of business model you follow, eTrac is guaranteed to provide an efficient workflow that won't require a complete overhaul of the processes you're comfortable with. For more information, contact us today at productinfo@globaldms.com.