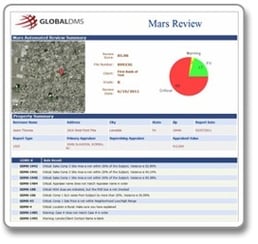 Having a seamless, workflow-driven valuation management process will allow for quick, easy configurations and will all but eliminate manual touch points. Lenders and AMCs that take advantage of this unique automation technology are sure to increase their own efficiencies, reduce costs, and become even more valuable to their consumer or lender-clients due to quicker turn-times and more accurate reports.
Automated appraisal review systems play a vital role in ensuring timely reports that are in full compliance with industry standards, and can save your institution time, mitigate collateral risk, and help instantly identify appraisal quality issues – all automatically.
They remove the need for manual reviews, which are cumbersome and at risk of human error, but allow the end-user to remain in full control of the process at all times. Not only does this help expedite a once grueling task, it provides you with peace of mind knowing that you can still mitigate your appraisal review process if necessary.
That said, having the right valuation management technology makes all the difference. It's important to ensure that the platform you utilize is truly automated, as many providers like to claim. However, most have gaps in their automation, which leads to a more manually driven process – leaving you right back at square one.
eTrac's MARS®

eTrac's Mismo Appraisal Review System, or MARS, instantly analyzes an appraisal for completeness, compliance, and consistency with GSE guidelines, UAD, and industry best practices to significantly reduce an underwriter's time spent on the collateral review process.
This sophisticated rules engine scrubs each real estate appraisal against thousands of rules, which can be customized to fit the needs of your organization. In addition, it automatically generates an instant report of "red flags" prior to manual review with a collateral score that directs the reviewer to the specific areas of the appraisal that require their attention.
MARS' automation capabilities allow for these reviews to be done automatically based on a specific status update, and help managers make faster, more consistent, and better decisions.
Over 2,600 Business Rules

Unlimited Custom Rule Sets

Rule Severity & Weighting Support

Mismo & PDF Format Support

Appraiser License Validation

Subject Property Aerial Map
To find out how MARS can help maximize the efficiency of your appraisal review process, contact us today at productinfo@globaldms.com.