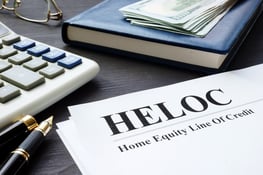 As more borrowers look to take advantage of their mortgage equity, Home Equity Line of Credit (HELOC) loans have begun increasing in popularity. This new trend has created a unique opportunity for lenders to take advantage of these loan-types, especially as refinances have continued to fall due to increasing rates.
Successful home equity lending, however, strongly depends on a lender's ability to close these loans as quickly and efficiently as possible – which starts with accurate and timely valuations.
Full valuations aren't always required for HELOCs, meaning lenders can turn to Automated Valuation Models (AVMs) and other appraisal alternatives to acquire the property values they need. That said, how lenders access and incorporate these valuable tools into their process is important to consider.
Valuation management technologies, like Global DMS' eTrac® platform, not only provide lenders with direct access to these useful tools right from within their native software, they give them an instant understanding of their collateral upfront and compliantly manage this collateral throughout the entire appraisal process – ensuring efficiency and accuracy.
They also remove the need for duplicate data entry via technology integrations that seamlessly communicate with one-another. This ensures that all the info collected from AVMs and other alternative products is streamlined into a lender's valuation software, which allows orders to be completed that much faster and with lower risk.
In addition to providing useful, HELOC-related products, a top-rated valuation management platform will also allow for the automation of routine tasks (such as running AVMs, reviews, etc.) and will integrate with a lender's existing tools (such as their LOS platform) to help expedite the appraisal process even further. This is especially beneficial when a full valuation is required.
Most importantly, these platforms help manage, collect, analyze, and distribute a lender's important appraisal data (in full compliance) and ensure one consistent process across the entire organization – reducing complexity and the risk of error.
Global DMS' eTrac platform not only provides direct access to industry-leading AVMs and additional products, it compliantly streamlines the entire valuation process (regardless of loan-type or business model) through unique automation capabilities, technology integrations, effective 3rd party oversight, and a wide array of applications – including a proprietary review system, web forms, report builder, and more.
To see how eTrac can improve the efficiency of your HELOC valuation process, contact us today at productinfo@globaldms.com for a quick demo.