Have you ever wished for valuation management software that was completely configurable to your exact business model and workflow process?
The one constant within our industry is that every business has its own unique way of handling its valuation management. Sure, we all must follow the same set of strict guidelines and regulations; but that doesn't mean that getting from point A to point B is exactly the same for everybody.
Utilizing a valuation management platform that can be configured to your exact business needs will ensure continued success. Not only will it help boost your overall efficiency while saving you money, it will give both you and your team peace of mind knowing that your processes will not be changed and that training will be minimal.
What is your preferred business model?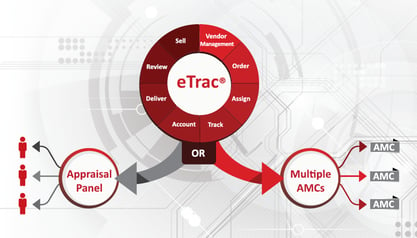 With eTrac® Enterprise managing your valuation process, it doesn't matter. Our platform can be configured to meet your specific needs, whether you manage the appraisal process internally or externally through AMCs.
This big difference maker is one of the most unique features of eTrac, because it allows you to choose how to maximize your process efficiencies by customizing your own unique workflow within the system. Not only can you map out your own individual process (complete with notifications and alerts), you can also use eTrac to manage either your in-house appraisal panel or third-party AMCs.
For lenders that utilize the multiple AMC model, eTrac can be automated to perform specific types of appraisal assignment rotation styles based on loan types, regional areas, or percentage of business allocations.
For more information, contact us today at 877-866-2747 (option 2) or productinfo@globaldms.com.