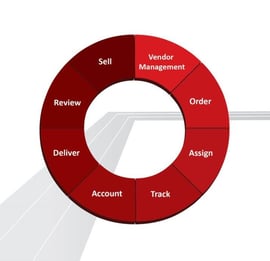 Valuation management technology is a vital asset for those that work with real estate appraisals on a regular basis. The problem with many platforms, however, is that they miss key steps in the overall process.
This inadequate management requires both lenders and AMCs to either implement additional software platforms or use manual steps to help bridge the gaps – leading to more costs and longer turn-times.
eTrac® efficiently handles the 8 key aspects of valuation management, and comes equipped with a powerful Workflow Engine that provides unparalleled automation throughout the entire process.
1) Vendor Management: Helps with all aspects of managing AMCs or independent appraisers.
2) Ordering: Provides multiple mechanisms for ordering appraisals compliantly.
3) Assigning: Give you an unbiased and efficient mechanism to distribute orders fairly across vendors, and provides various categories for optimal assignment.
4) Tracking: Provides real-time access to appraisal statuses and links to appraisals, 24/7.
5) Accounting: Helps manage both accounts payable and receivable.
6) Delivering: Provides a mechanism for managing your clients' delivery preferences.
7) Reviewing: Routes appraisals to the appropriate staff members, and assists in performing required quality control checks.
8) Selling: Delivers to the UCDP and EAD Portal automatically as part of the standard workflow.
To see the difference one platform can make, contact us today at productinfo@globaldms.com for a free consultation.