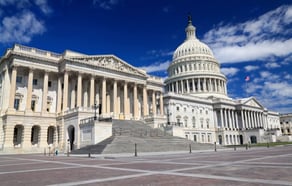 After passing through the Senate back in March, the U.S. House of Representatives recently passed S. 2155—or the "Economic Growth, Regulatory Relief and Consumer Protection Act"—which was immediately signed into law by President Trump.
The new law rolls back certain parts of the Dodd-Frank Act in an attempt to bring regulatory relief to credit unions and community banks. In particular, S. 2155 will allow some smaller and mid-sized banks to omit their cash balances held at the Federal Reserve and other central banks when calculating their supplementary leverage ratio.
"Dodd-Frank's complex and costly regulations gave large banks an unfair competitive advantage at the expense of neighborhood banks all over the country," said Trump in a statement. "Since Dodd-Frank's passage just over 8 years ago, 20-percent of smaller banks have been put out of business, while banks that were considered 'Too Big to Fail' had the resources to comply with Dodd-Frank's brutal maze of costly regulations."
David Stevens, President and CEO of the MBA, commended the House for passing the new law in a recent email to the organization's members, mentioning several provisions that the MBA considered priorities:
SAFE Act amendments, which will provide loan officers with 120 days of transitional authority to originate when moving from a federal depository to a non-bank (or across state lines).
High Volatility Commercial Real Estate (HVCRE) reform, which effectively amends the current HVCRE rule to clarify which acquisition, development, or construction (ADC) loans are subject to higher HVCRE risk weight. It also aligns the rule with reasonable and responsible ADC lending practices.
VA Interest Rate Reduction Refinance Loan (VAIRRRL) program reform to protect veterans, service members, and surviving spouses and reduce excessively fast prepays, which have adversely impacted Ginnie MSR values and FHA/VA rates.
"PACE" loans reform, which subjects them to TILA consumer protections.
Modest relief from HDMA for certain smaller lenders (500 loans per year).
Language to address problems with TRID, which will eliminate CD re-disclosure when rates go down and direct the BCFP to provide written guidance in other areas that are causing confusion and uncertainty.
For more information on S. 2155, or to see the new bill in its entirety, click here.
Sources:
HousingWire – housingwire.com
National Mortgage Professional Magazine – nationalmortgageprofessional.com
MBA – mba.org