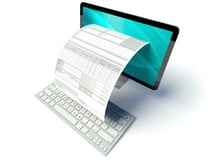 Many within the real estate valuation industry still rely on offline documents for their order and review forms, which is counter-productive in several ways. Not only does this promote a completely manual process that requires duplicate data entry, it leads to greater risk and can cause confusion amongst your staff, as nothing within these offline forms is trackable – meaning there is no way of knowing who has the most up-to-date version.
EVO-Residential™ (EVO-Res™), Global DMS' innovative appraisal technology, resolves this key pain-point by providing the order and review forms you need in a completely digital format – eliminating Word and Excel documents from your valuation process and giving you the power to transform your business into an ultra-efficient, compliant, and finely tuned operation.
What makes these order and review forms truly special, however, is their complete configurability and templated format. With a couple clicks of the mouse, end-users can instantly add, remove, or create new fields as needed – no development work required.
These digital forms can then be saved for future use, eliminating the need to recreate the same documents for every order and providing the flexibility you need for any given assignment.
Further benefits include:
Automated form selection.
Pre-populated forms via intelligent merge fields.
Digital signatures.
Automated delivery to the appropriate individuals.
Complete trackability.
Robust reporting that's able to capture every field within your forms.
In addition, this digital process always provides your staff with the most recent version of the form being used, allowing you to manage crucial interactions cohesively and compliantly without losing track of critical information.
Ready to go digital? Contact Global DMS® today at evopreview@globaldms.com.