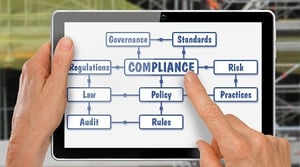 The Credit Union National Association (CUNA) recently announced that it has selected Quantivate to provide a new technology platform that will act as a comprehensive compliance solution for credit unions.
Given the number of new rules and regulations imposed by both state and federal governments over the years, as well as the complexity and costs associated with these new mandates, the CUNA board decided to commission the development of this regulatory compliance management system back in 2017.
According to CUNA's press release, their new compliance system will help users mitigate both state and federal compliance burdens from one place and will allow credit unions, leagues, and CUNA itself to collectively manage compliance as a team.
The new platform is being designed by a team of stakeholders from across the industry—including credit unions, state leagues, industry partners, and other experts—and will leverage technology and include features that have been identified as fundamental to reducing the compliance burden on credit unions.
"As the largest industry trade association, CUNA's job is to provide comprehensive compliance support and resources that helps make compliance and regulatory change more manageable so credit unions can focus on providing excellent service to those who matter most," said CUNA's CCO, Jared Ihrig in the association's press release. "Quantivate's technology is key to our investment in the future of the industry to ensure credit unions have access to a comprehensive integrated solution that combines state and federal compliance."
Sources:
CUNA – cuna.org
RegTech Online – regtechonline.com