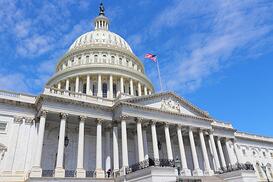 Congresswoman Maxine Waters (D-CA) recently introduced a new piece of legislation to the U.S. House known as the Comprehensive Consumer Credit Reporting Reform Act of 2016, which would overhaul the American credit reporting system so that it's "fairer, more accurate, and less confusing for consumers."
According to Rep. Waters' press release, the country's credit reporting agencies—TransUnion, Equifax, Experian, and others—currently compile and maintain files for roughly 200 million adults. Of those 200 million files, nearly 40 million are said to contain inaccurate information.
Waters argues that most consumers must "jump through numerous hoops" in order to resolve these inaccuracies, which her new bill is aiming to fix. She is also hoping to hold the credit reporting agencies more accountable.
Key reforms of Waters' new legislation include:
Fixing the dispute process so that credit bureaus and furnishers—not consumers—bear the burden to prove the accuracy and completeness of credit information.

Shortening the time most adverse credit information stays on reports to only four years, and requiring the agencies to remove paid and settled debts within 45 days.

Protecting the credit standing of victims of predatory and abusive practices related to foreclosures caused by discriminatory loans, delinquent or defaulted private education loans obtained to attend deceptive for-profit colleges, and/or fraudulent credit items resulting from shady caregivers, abusive domestic partners, or family members.

Rehabilitating credit for distressed private education loan borrowers when they demonstrate consistent loan repayments for a certain period of time – which is similar to the relief available to federal student loan borrowers.

Expanding access to free consumer reports and credit scores so that consumers can better understand and improve their creditworthiness.

Restricting the use of credit checks for employment purposes.

Further empowering the Consumer Financial Protection Bureau (CFPB) by providing explicit authority to monitor the development of the credit scoring model.
The new bill would also require the Federal Housing Finance Agency (FHFA) to study using alternate, additional, or updated credit scoring models as part of the seller-services guide on an on-going basis, which is used by both Fannie and Freddie.
In addition, the bill would also allow borrowers who have been "victimized by unfair, deceptive, or abusive acts or practices" of mortgage lenders or servicers to have adverse information related to their mortgage loans removed from their reports.
For more information, including additional reforms, check out the full draft of Rep. Waters' Comprehensive Consumer Credit Reporting Reform Act of 2016.
Sources:
U.S. House Committee on Financial Services Democrats – http://democrats.financialservices.house.gov/
The Seattle Medium – seattlemedium.com
HousingWire – housingwire.com