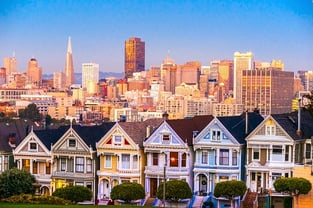 On December 8th and 9th, Global DMS will be attending the Digital Mortgage Conference in San Francisco, California, where our CEO (Vladimir Bien-Aime) and EVP of Sales (Mac Chiles) will be conducting one-on-one meetings and participating in several events.
Hosted by National Mortgage News, the new Digital Mortgage Conference promises to be different from any other event you may have attended. It will feature industry thought leaders and innovators that will host engaging discussions, and will also include numerous demos that touch upon all aspects of the emerging digital mortgage market.
For more information, check out the conference's official website.
Global DMS Involvement:
Global DMS' CEO, Vladimir Bien-Aime, and EVP of Sales, Mac Chiles, will be in attendance for the duration of the Digital Mortgage Conference, and are looking forward to connecting and/or reconnecting with the many industry participants that will be present.
Both Vladimir and Mac are experts on valuation management technology—especially when it comes to workflow automation, vendor management, and reporting—and will be available to answer any questions you may have about this technology's latest developments, best practices, and more. In addition, they will also be available to answer any questions regarding our company or its valuation management solution suite, so please don't hesitate to seek them out.
Those interested in scheduling any one-on-one meetings with either Vladimir or Mac during this upcoming event may do so by submitting a request via email to marketing@globaldms.com.