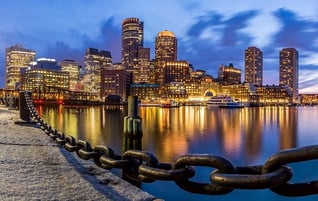 From October 23rd through the 26th, several Global DMS representatives will be at the Hynes Convention Center in Boston, MA for the MBA's Annual Convention and Expo, where they will be exhibiting our flagship product eTrac® in booth #205.
Arguably considered the mortgage industry's premier event, MBA Annual will bring together thousands of mortgage industry professionals, leaders, and government officials from all across the country. Those that attend will have the opportunity to network with peers, attend educational forums and seminars, sit in on informative speeches and panel discussions, and much more.
For more information, visit the official MBA Annual website.
Global DMS Involvement:
Global DMS' representatives will be in attendance for the duration of the convention, and look forward to both connecting and reconnecting with the many renowned professionals and government officials that will be present. This year, our entire executive team will be on-site to attend numerous seminars, panel discussions, networking events, and individual meetings. This team includes:
Vladimir Bien-Aime – CEO

Mac Chiles – EVP of Sales

Jody Collup – VP of Marketing

Michael Quaranto – VP of Technology

Kevin Madden – VP of Product Management
In addition, our own Taylor Stamm (Implementation Manager) and Dan McShane (Technical Support Representative) will also be on-site to manage our exhibit display in booth #205, where they will be able to answer any questions about our company and its valuation management solution suite.
If you're interested in meeting one-on-one with a member of our executive team, or wish to schedule a booth demo or conversation, please send your request to productinfo@globaldms.com.