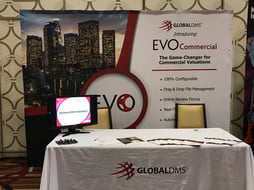 On July 22nd and 23rd, Global DMS will be in Denver, CO for the Appraisal Institute's Annual Conference, where we will be exhibiting our flagship valuation management products (EVO-C and eTrac®) in booth 310 on the tradeshow floor.
EVO-C
Global DMS' EVO-Commercial™ (or EVO-C) appraisal management platform provides users with a centralized system that's 100% configurable, and is the only solution of its kind that can automate a user's specific appraisal process without developer intervention.
Easily manage appraisers without having to login to a separate portal.

Efficiently order and manage appraisals, commercial evaluations, property reports, AVMs, etc.

Quickly evaluate competing bids to find the most qualified appraiser based on your parameters.

Configurable Order Form Builder allows for instant changes on the fly.

Configurable Report Builder creates real-time, custom reports in minutes.

Includes process and timing flags to help manage issues before they become critical.

Provides instant drag and drop capabilities for file uploads of any size.

Promotes an efficient review process via online forms – eliminating external documents.

Seamlessly manages compliance and provides tracking functionality for audit purposes.
eTrac
eTrac, Global DMS' valuation management platform for residential transactions, not only manages every aspect of the appraisal process, it automates this entire process from start to finish. The system's superior workflow, combined with its proprietary review platform, various integrations (UCDP®, EAD, LOS, etc.), and useful tools, help ensure compliance adherence while reducing turn-times and costs.
One consistent process across the entire organization.

Ensured compliance – automatically.

Elimination of manual operational processes.

Reduced risk, errors, cost, and time.
If you're interested in learning more about Global DMS' solutions—and how they can transform your commercial and/or residential appraisal process—catch up with our team at booth 310 during the upcoming Appraisal Institute Annual Conference.
Not attending? Contact us anytime via email at productinfo@globaldms.com.