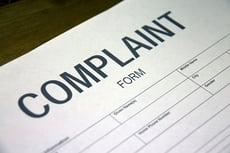 Last month, CFPB Monitor reported that the Consumer Financial Protection Bureau's (CFPB) compliant database could soon see more changes. In particular, the Bureau is looking to add an additional field to the current compliant intake form, and is seeking public comments on this change. All comments must be submitted by September 30th.
The new field would include a survey that consumers could choose to respond to, in which they would provide their feedback on how a company both responded to and handled their complaint. According to the CFPB's federal register filing, "The results of this feedback will be shared with the company that responded to the complaint to inform its complaint handling. The feedback will also be used to inform CFPB's work to supervise companies, enforce federal consumer financial laws, write better rules and regulations, and monitor the market for consumer financial products and services."
The CFPB did mention that it will evaluate all the data that's collected from consumer feedback before publishing anything on its Consumer Complaint Database. In addition, the Bureau will only publish narratives for which opt-in consumer consent is obtained and to which robust personal information scrubbing standard methodology is applied.
This recently proposed feedback field would replace the existing 'dispute' function, which currently allows consumers to indicate their dissatisfaction with a company's response. If implemented, consumers would have the option to score a company's response on a scale from 1 to 5, and would be able to provide a narrative description of the rationale for the number they selected.
According to its filing, the CFPB is currently seeking public comments on the following:
Whether the collection of information is necessary for the proper performance of the functions of the Bureau, including whether the information will have practical utility.

The accuracy of the Bureau's estimate of the burden of the collection of information, including the validity of the methods and the assumptions used.

Ways to enhance the quality, utility, and clarity of the information to be collected.

Ways to minimize the burden of the collection of information on respondents, including through the use of automated collection techniques or other forms of information technology.
In addition to this self-imposed change, the CFPB's complaint database could also see more changes thanks to a recently introduced bill in the U.S. House.
In June, Representative Matt Salmon from Arizona introduced a new bill to Congress known as the CFPB Data Accountability Act, which would—among other changes—require the Consumer Financial Protection Bureau (CFPB) to begin verifying the complaints they receive before displaying them on their online public database. Salmon's bill is currently set for review by the House Financial Services Committee.
Sources:
CFPB Monitor – cfpbmonitor.com
HousingWire – housingwire.com