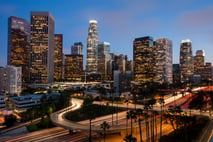 From April 3rd through the 6th, several Global DMS representatives will be attending the MBA's National Technology in Mortgage Banking Conference & Expo in Los Angeles, California, where they will be conducting one-on-one meetings and participating in several events.
This unique, industry-wide conference allows participants to connect with leading mortgage technology experts, vendors, and customers, and discover emerging technologies and current trends. In addition, attendees will also be provided with updates regarding information security issues, and will have direct access to numerous educational sessions pertaining to new rules and regulations and how technology can help their businesses comply.
For more information, please visit the conference's official website.
Global DMS Involvement:
Global DMS' CEO, Vladimir Bien-Aime, VP of Development, Michael Quaranto, Executive VP of Sales, Mac Chiles, and VP of Marketing, Jody Collup, will be in attendance for the duration of the event, and are excited by the opportunity to both connect and reconnect with the many renowned professionals that will be present. While on-site, both Vlad and Jody will be available to answer any questions you may have about our company or its various products, so please don't hesitate to seek them out.
In addition, those that are interested in scheduling any one-on-one meetings with either Vlad or Jody may do so by submitting a request to productinfo@globaldms.com.
About Global DMS:
Founded in 1999 and headquartered in Lansdale, Pennsylvania, Global DMS is a leading provider of commercial and residential real estate valuation solutions catering to lenders, servicers, AMCs, appraisers, and other real estate entities. The company's solution set is cost effectively delivered on a Software-as-a-Service (SaaS) transactional basis that ensures compliance adherence, reduces costs, increases efficiencies, and expedites the entire real estate appraisal process. The product line-up includes its eTrac® valuation management platform, eTrac Web Forms, Global Kinex®, AVMs and data analytics products, BPO management platform, the Mismo Appraisal Review System (MARS®), ATOM (Appraisal Tracking On Mobile), and AMCmatch.com.
For the latest industry and company updates, be sure to follow Global DMS on Facebook, Twitter, LinkedIn, and Google Plus.