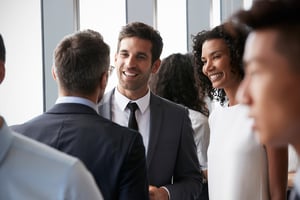 Over the next few months, Global DMS will be sending representatives to several industry events throughout the country, who are looking forward to both sharing their insights regarding valuation management technology as well as networking with new contacts and old friends.
Valuation Expo
Global DMS' Shawn Barmore (Sr. Sales Executive) will be attending this upcoming event from March 18th through the 20th at the Palmer House in Chicago, IL. For over 15 years, the Valuation Expo has been considered one of the industry's premier real-estate appraisal conferences, and Shawn looks forward to once again joining the many professionals that will be present.
MBA's Technology Solutions Conference & Expo
Global DMS' Executive Team, Vlad Bien-Aime (CEO & President) and Jody Collup (CMO/Director of Operations), will be attending this MBA-sponsored event from March 24th through the 27th in Dallas, TX. With technology continuing to revolutionize the industry, our team can't wait to share their extensive knowledge of appraisal software to help attendees remain ahead of the curve.
MBA's Commercial/Multifamily Servicing & Tech Conference
From May 14th through the 17th, Global DMS' Vlad Bien-Aime, Jody Collup, Shawn Barmore, and Nick Myhasuk (Sales Engineer) will be attending and exhibiting EVO-C at a table-top during this commercial-related event in Los Angeles, CA. This robust conference offers a dynamic balance of networking events and engaging peer-to-peer learning opportunities, and our team can't wait to join and contribute to these important discussions.
If you're attending any of the events listed above and would like to speak with a Global DMS representative while there, please send you request to marketing@globaldms.com or simply stop by our booth/table-top (when applicable).