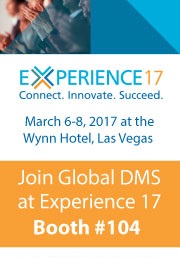 From March 6th through March 8th, several Global DMS representatives will be attending the Ellie Mae Experience 2017 event at the Wynn Casino in Las Vegas, Nevada, where they will be exhibiting our flagship product eTrac® (and its seamless integration with Encompass®) in booth #104.
Those attending from our company include Vlad Bien-Aime (CEO), Jody Collup (VP of Marketing), Mac Chiles (Executive VP of Sales), Tony Zinni (Director of Implementation), and Julie Bussey (National Accounts Director). All five will be in attendance for the duration of the conference, and look forward to both connecting and reconnecting with the many renowned professionals that will be present.
If you plan on attending as well, be sure to check in with the Global DMS team at booth #104 to learn more about our company and its valuation management solution suite – including eTrac's direct integration with Ellie Mae's Encompass LOS.
eTrac/Encompass Integration:
Global DMS' eTrac valuation management platform has been seamlessly integrated with Ellie Mae's Encompass LOS. Without ever having to leave Encompass, you will have direct access to our eTrac platform – which can easily handle all your valuation needs:
Automated Valuations

Ordering Full Appraisals

Automated Appraisal Reviews

Delivery to the UCDP, EAD, and Institutional Investors
The integration's interface establishes system-to-system transaction processing that helps eliminate duplicate data entry, provides real-time status updates, and enhances communications between lenders and their valuation vendors. This interface is quite simple to use, and follows these basic parameters:
Orders are sent to eTrac from Encompass.

Status updates are sent to Encompass from eTrac.

Files are pulled from eTrac on request by Encompass.
If you're interested in scheduling a customized demo of this integration during the upcoming Ellie Mae Experience, contact us today at productinfo@globaldms.com.