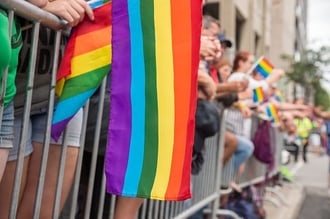 Last month, U.S. Senators Tim Kaine (D-VA), Tammy Baldwin (D-WI), and a host of others introduced the "Fair and Equal Housing Act of 2017" – a new bill that would add gender identity and sexual orientation to the classes protected from discrimination under the "Fair Housing Act."
As it currently stands, the "Fair Housing Act" only prohibits housing discrimination based on race, color, religion, national origin, sex, familial status, and/or disability. That said, the District of Columbia, 22 states, and over 200 localities do protect sexual orientation and gender identity in their current housing discrimination statutes.
"A growing number of Americans recognize that their LGBT family members, friends, and neighbors deserve to be treated like everyone else in the United States," said Senator Baldwin in her press release. "Yet today, without complete protections in our federal housing law, LGBT Americans can face discrimination when they try to rent or buy a home. This is wrong. This legislation will help ensure that no American will be turned away from a home simply because of who they are or who they love."
Several national surveys—including a study commissioned by HUD—have shown that this form of housing discrimination remains prevalent in the United States. Adding gender identity and sexual orientation as protected classes should help alleviate this issue, and ensure equal housing opportunities for all Americans.
Of note, this new legislation is a companion bill to a similar bipartisan action that was introduced in the House of Representatives earlier this year by Representatives Scott Taylor (R-VA) and Brad Schneider (D-IL) – which is still in subcommittee.
For more information regarding the "Fair and Equal Housing Act of 2017", click here.
Sources:
Tammy Baldwin – baldwin.senate.gov
National Low Income Housing Coalition – nlihc.org
HousingWire – housingwire.com