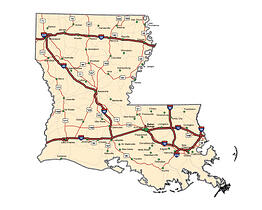 As of August 1st, Louisiana's new real estate appraiser legislation—known as House Bill 1018—has officially been in effect and considered law. Amending the state's previous real estate appraiser law, H.B. 1018 has changed several provisions relating to the Louisiana Real Estate Appraisers Board; applications for examination, experience review, and license renewal; nonresident licensure; continuing education requirements; and disciplinary proceedings.
Under the new legislation, appraiser licenses will only be granted to those who satisfy the minimum education, examination, and experience requirements that are mandated by the Appraiser Qualifications Board (AQB) and that are under the most current version of the Real Property Appraiser Qualification Criteria. Applicants will also be required to undergo background checks, as mandated by the AQB and prescribed by the board.
A new amendment has also been added to H.B. 1018 that now allows nonresidents of Louisiana to apply for a real estate appraiser license as long as they remain in accordance with Subsection (B) of Section 1122 of the Financial Institutions Reform, Recovery, and Enforcement Act of 1989.
The continuing education requirements for appraisers have also been reworked under H.B 1018, and those seeking to renew their licenses must now complete no less than 28-hours of classroom instruction in courses approved by the board – 2 less than previously required.
Those applying for a trainee license will also face new requirements, as will their supervisors that oversee their training. Supervisors must now be licensed for at least 3-years before they can assume the role, and both the trainee and supervisor will be "required to complete a course that complies, at minimum, with the specifications for course content established by the AQB". The required course must directly correlate with the requirements and responsibilities of supervising appraisers, as well as the expectations for trainee appraisers.
Applicants for a trainee license must also complete 75-classroom hours of qualifying education in core education subjects that include 30-hours of basic appraisal principals, 30-hours of basic appraisal procedures, and the 15-hour National Uniform Standards of Professional Appraisal Practice course or its equivalent. In addition, they must also successfully pass the final examinations in each course. Upon renewal of a an appraiser trainee license, trainees must now only complete 14-hours of continuing education per year versus the 15-hours of classroom instruction that was previously required.
Another major change under H.B. 1018 revolves around the Louisiana Real Estate Appraisers Board itself, in which members may now serve 3 consecutive 3-year terms. Previously, board members could only serve 2 consecutive 3-year terms.
Sources:
Valuation Review – valuationreview.com
Appraisal Institute – appraisalinstitute.org
Louisiana State Legislature – legis.la.gov