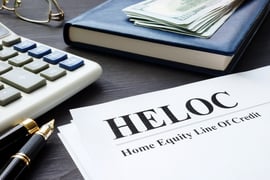 According to a recent Home Equity Forecast from Bankrate, interest rates for HELOCs should remain fairly low in 2020, as the Federal Reserve (after cutting rates three times in 2019) has indicated that no hikes are on the horizon for the new year.
"Interest rates are unlikely to be an impediment for qualified home equity borrowers in 2020," said Bankrate's CFA, Greg McBride in the company's forecast. "Even if mortgage rates were to rise from the sub-4% levels of 2019, HELOC rates would largely hold steady if the Federal Reserve isn't changing interest rates."
To recap, the Fed sets the federal funds rate, which is the interest rate that banks charge each other for overnight loans to meet their reverse requirements. In turn, the federal funds rate determines the prime rate – the best rate for consumers that's only offered to the most creditworthy borrowers. If Bankrate's forecast proves to be true, this would keep the U.S. prime rate at its current 19-month low.
Using data collected from Black Knight, Bankrate mentioned that U.S. homeowners are currently sitting on around $6.2 trillion in untapped home equity. The company believes that homeowners are being more cautious since the Great Recession, when many borrowers found themselves underwater.
Sources:
Bankrate – bankrate.com
HousingWire – housingwire.com