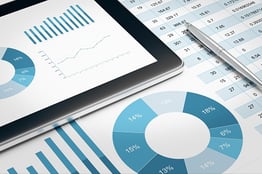 Keeping track of the statuses of all your appraisal orders can be an arduous task. Couple that with managing your vendors' licensing and E&O statuses at the very same time, and this process can seem almost impossible.
Fortunately, there is an answer to this common dilemma that many throughout the mortgage industry face on a daily basis – automated report generation.
With a tool like eTrac® Report Builder (ERB), you can automatically run and deliver various reports that will keep you on top of the current statuses of both your appraisal orders and vendors. These reports can be run daily, weekly, monthly, or bi-monthly depending on your needs.
Once configured, order status reports will automatically report upon all your appraisal orders that fall within any specific status that you wish to see – including open, accepted, rejected, closed, etc. These reports can be customized to fit your specific process and can be automatically delivered to either internal management or the necessary employees.
When it comes to managing your vendors, ERB can handle this process for you with no manual intervention. Not only will it provide an automated report that shows the current licensing and E&O statuses of all your vendors, it will also send automatic email reminders to said vendors whenever they are nearing the deadline to update these required documents.
Simply put, technology is the key to simplifying this hectic process and relieving the stress that it brings to your organization.
If you're interested in learning more about ERB, including its additional reporting capabilities, contact us today at productinfo@globaldms.com.