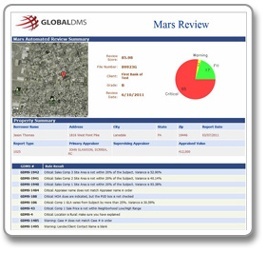 Having the right automated appraisal review system can save time, mitigate collateral risk, and help identify appraisal quality issues.
eTrac's MARS® (Mismo Appraisal Review System) analyzes an appraisal for completeness, compliance, and consistency with GSE guidelines, UAD, and industry best practices to significantly reduce an underwriter's time spent on the collateral review process.
MARS is a sophisticated rules engine that scrubs each real estate appraisal against thousands of rules, which can be customized to fit the needs of your organization. This valuable tool generates an instant report of "red flags" prior to manual review with a collateral score that directs the reviewer to the specific areas of the appraisal that require their attention.
In addition, MARS' automation capabilities greatly reduce internal review times, and help managers make faster, more consistent, and better decisions.
MARS Features:
Over 2,600 Business Rules

Unlimited Custom Rule Sets

Rule Severity and Weighting Support

Mismo and PDF Format Support

Instant "Red Flag" Report with Collateral Score

Appraiser License Validation

UAD Compliance Check

Subject Property Aerial Map

API for Easy Integration
To find out how MARS can help maximize the efficiency of your review processes, contact us today at 877-866-2747 (option 2) or productinfo@globaldms.com.