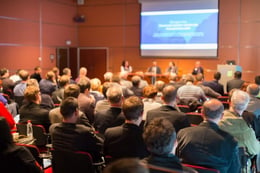 The Appraisal Standards Board (ASB) of the Appraisal Foundation has scheduled a public meeting to discuss the potential areas of change for the 2018-19 edition of the Uniform Standards of Professional Appraisal Practice (USPAP). The meeting will be held in Tampa, Florida on February 19th, and will highlight specific USPAP recommendations that relate to the ASB's current Discussion Draft.
The goal of USPAP is to promote and maintain a high level of public trust in the appraisal practice by establishing requirements for appraisers. The ASB regularly solicits and receives comments and suggestions for improving USPAP, which are intended to enhance USPAP understanding and enforcement.
In addition to maintaining public trust, the ASB is also concerned about how any changes to USPAP would impact industry stakeholders. In order to alleviate this concern, the board has asked all interested parties to review its Discussion Draft—which briefly discusses all the issues being considered for the 2018-19 edition of USPAP—and submit a comment in writing before the February 17th deadline.
The ASB is seeking feedback from government regulators, educators, appraiser organizations, practitioners, and users of appraisal services, and has asked that commenters fully explain their reasons for concern or support, provide examples or illustrations, and suggest any alternatives or additional issues that the ASB should consider.
The ASB's potential topics of discussion at the upcoming meeting include:
Communication of Assignment Results
STANDARD 6 – Mass Appraisal, Development, and Reporting
Definition of assignment
Review of terms, assumption, and extraordinary assumption
STANDARD 3 – Appraisal Review, Development, and Reporting
Review of Standards Rules 7-2(c), SR 7-5, and 8-2(v)
Review of Standards Rule 8-3
Review of Advisory Opinions 1, 18, 21, and 31
It's important to note that no specific changes to USPAP are being proposed at this time. The ASB will issue exposure drafts in the coming months ahead based on the feedback they receive at this upcoming meeting, and each draft will solicit more public comments before any final decisions are made.
To view the ASB's Discussion Draft in its entirety, which includes contact information, click here.
Sources:
Appraisal Foundation – appraisalfoundation.org
Valuation Review – valuationreview.com