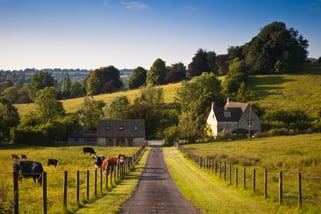 The Appraisal Institute recently announced that it has issued its first textbook in 16 years titled, "Rural Property Valuation", which focuses on the topic of rural property appraisals.
According to the Appraisal Institute's press release, the new book includes up-to-date information on the many forces that affect agricultural and ranch properties in the U.S., and lays out the groundwork for a broad understanding of rural properties. It also offers specific data and analytical tools that appraisers can use in their daily work.
The book provides a rural prospective on appraisal basics, such as property rights, financing, market analysis and highest and best use, site and building improvements, and the approaches to value. In addition, it also includes the following topics that are unique to rural properties:
Federal and state assistance programs

Soil analysis and carrying capacity

Agricultural production

Ranch management

Dairy farm operations

Permanent plantings

Timberland valuation
"In short, 'Rural Property Valuation' is a landmark text that addresses the needs of practicing appraisers, and provides valuable insights and information that cannot be found elsewhere," said the Appraisal Institute on the book's webpage. "It should prove useful to appraisers who value rural properties once a year, once a month, or daily."
For more information, or to order a copy of "Rural Property Valuation", click here.
Sources:
The Appraisal Institute – appraisalinstitute.org
Valuation Review – valuationreview.com