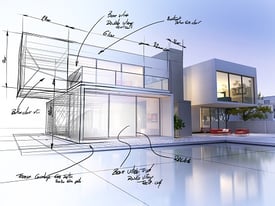 The Appraisal Institute has released a new book titled, Identifying Residential Architectural Styles, which highlights how certain construction elements may affect a home's value.
This illustrated guide is designed to help appraisers identify the architectural styles of the homes they appraise, and determine how various construction elements either contribute to or reduce a property's value. Reporting the design or style of a home is a critical part of the residential appraisal process, and within this new book, appraisers and other industry participants will learn about:
The historical evolution of architecture in America from 1600 to the present.
Significant architectural design elements and the architects who introduced them.
Residential building elements and materials, including framing and foundations, exterior siding and insulation, drainage and heating systems, flooring, windows, and roofing.
In addition to providing dozens of photos and drawings of important building elements, the Appraisal Institute's new book also includes a pictorial overview of residential architectural styles from the early colonial period to modern times. It also includes two glossaries and detailed case studies of nine architecturally significant homes that were sold in various locations across the United States.
"American homes can reflect important moments in history as well as the artistry of their designers," said Scott Robinson, President of the Appraisal Institute, in a recent press release. "Architecture can create inspiration and most importantly, for appraisers, influence value. Identifying Residential Architectural Styles gives appraisers the necessary tools to identify and classify different types of residential properties, and provides a background on the art of building to help them appreciate the beauty and function of the structures they encounter every day."
For more information, or to purchase your copy of Identifying Residential Architectural Styles, visit the Appraisal Institute's website.
Sources:
The Appraisal Institute – appraisalinstitute.org
Valuation Review – valuationreview.com