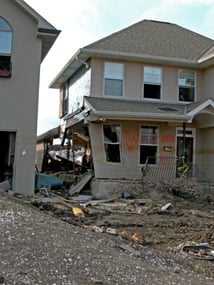 When analyzing properties with detrimental or damaged conditions, appraisers need to use the proper tools in assessing such properties. Fortunately, the Appraisal Institute has a book available for those seeking guidance in this area so that they can avoid unproven and/or suspect methodologies when determining relevant market data to support opinions and conclusions.
For nearly 20 years, industry participants have referenced "Real Estate Damages" to learn about detrimental conditions so that they can properly tackle these complex and controversial appraisal assignments. Now in its third edition, this popular book provides a foundation for valuing properties that are subject to 10 different types of detrimental conditions. It also enlightens appraisers on the current factors affecting property values, such as climate change, terrorism, and oil/gas exploration.
"Real Estate Damages" both describes and demonstrates how appraisers can use a variety of tools to define market boundaries, gather relevant data, analyze the short and long term effects of detrimental conditions, and generate value opinions and conclusions that are well-reasoned, supportable, and defensible in court.
It includes new discussions on various topics, such as cellular towers, strip mining, and fracking, as well as new case studies that provide an in-depth look at several national memorial sites. In addition, the book also provides an updated and expanded listing of numerous print and online resources, and comes equipped with the latest directory of relevant agencies and associations.
"Whether it's a natural event or a man-made detrimental condition, real estate appraisers should be prepared to assess the effect of damages on property value," said the Appraisal Institute on the book's webpage. "Preparation is essential since most appraisers will be asked to appraise property subject to damages at some point in their careers."
For more information, or to order the third edition of "Real Estate Damages", check out the Appraisal Institute's website.
Sources:
Appraisal Institute – appraisalinstitute.org
Valuation Review – valuationreview.com