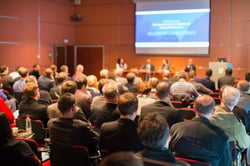 The Appraisal Institute recently announced that it has launched a new 7-hour classroom seminar regarding leasehold valuation issues known as, "How Tenants Create or Destroy Value: Leasehold Valuation and its Impact on Value."
According to its press release, participants can expect to learn about:
How the terms of a tenant's lease impact value (either positively or negatively).

Situations that require a valuation of a leasehold.

Methodologies in valuing leasehold – including examples and exercises.

The impact of a leasehold in the valuation of property using all applicable approaches.

Challenges facing appraisers performing leasehold valuation assignments.
In addition, the Appraisal Institute mentioned that its new seminar goes beyond methodology to explore how to measure a property rights adjustment, explains the theory that underlies the use of a leasehold yield rate to value the leasehold, and elaborates on the application of a property rights adjustment in all three approaches to value.
The seminar will be held numerous times over the next several months at various sites throughout the country. For more information, or to register for an upcoming seminar, check out the following webpage.
Source:
Appraisal Institute – appraisalinstitute.org