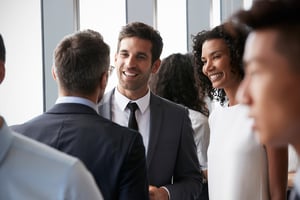 Business networking isn't just for c-suite employees, managers, or salesmen. It's for anyone looking to expand their professional footprint and careers – including real estate appraisers.
These professionals often work for themselves and must rely on sound business relationships with lenders, AMCs, credit unions, and others in order to ensure consistent assignment requests. In addition, working for yourself requires a lot of work, meaning its easy to miss out on the latest news, innovations, new ideas, and more.
Because of this, Appraisal Buzz devised the following business networking tips that it feels every appraiser should know:
Develop personal and professional relationships that last.

Take advantage of opportunities and connections.

Seek and utilize needed guidance from your peers.

Use live continuing education opportunities to expand your industry reach.

Use networking to gain new ideas for your business and its processes.
For more information on each tip above, check out Appraisal Buzz's article.
Source:
Appraisal Buzz – appraisalbuzz.com