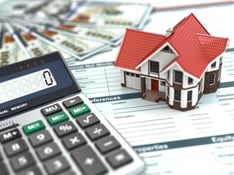 As reported by Valuation Review, Quicken Loans recently announced that March's home values—as determined by appraisers—were an average of 2.17% lower than what most homeowners expected. This figure was determined by Quicken's proprietary National Home Price Perception Index (HPPI), and marked the second consecutive month that the gap had increased.
This recent gap, according to Quicken Loans, was the largest between appraisers and homeowners since August 2015. In addition, March was also the 14th consecutive month that appraisers' values were lower than most homeowners' expectations.
When Quicken Loans viewed the HPPI at a metro area level, the figures varied widely across the United States. The Western region of the country continued to stand out, in which several locations actually saw the average appraisal value eclipse what most homeowners were expecting. With that said, the majority of Midwestern metro areas showed the complete opposite, in which most appraisals were lagging behind homeowner estimates.
According to the National Home Value Index (HVI), property values continued to increase in March throughout most of the country. Appraisal values also increased by 0.29%, and were up 4.77% overall from March 2015.
The monthly figures were a little more sporadic, according to the National HVI, ranging from a 0.67% decrease in the Midwest region to a 1.52% increase in the Western region. Still, all four regions did see an annual increase in appraisal values:
West: +7.43%
South: +3.75%
Midwest: +2.75%
Northeast: +1.36%
Sources:
Quicken Loans – quickenloans.com
Valuation Review – valuationreview.com