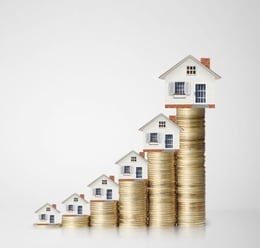 The MReport recently reported that the S&P Dow Jones Indices has published its monthly data from the S&P CoreLogic Case-Shiller Indices. This trio of indexes measures the price change of residential properties on a national composite average, a 10-city composite average, and a 20-city composite average.
The S&P CoreLogic Indices are measured on a 3 month moving average, and are published by S&P Dow Jones on the last Tuesday of every month. The levels are measured in relation to a normalization value of 100 in 1890, when the data first started being measured.
March's data, to no real surprise, shows a slow but steady rise in home prices on all 3 of the indexes measured. According to the experts, this pattern isn't going to change any time soon.
For the year ending in March, the national average rose from 5.7% to 5.8%, which is the highest it has been in the last 33 months. When comparing March to February, the index gained 0.8% before seasonal adjustments and 0.3% after.
The 10-City Composite Index also saw a year-over-year increase in property values of 5.2% and a month-over month increase of 0.9% (both seasonally and non-seasonally adjusted data). This index includes information from the Boston, Chicago, Denver, Las Vegas, Los Angeles, Miami, New York, San Diego, San Francisco, and Washington, D.C. metro-areas.
The 20-City Composite Index showed similar results, as the non-seasonally adjusted month-to-month measurements showed a 1% increase in home prices. Once the index was seasonally adjusted, the number fell slightly to a 0.9% increase. Year-over-year, the average increase held firm at 5.9%.
All in all, the locations with the highest year-over-year increase in home prices were metro-areas in the Pacific Northwest and Southwest. On the contrary, metro-areas along the east coast showed the lowest year-over-year increase.
In addition to these above indices, Black Knight also released its Home Price Index Report, which showed that March's home prices rose to a median of $272,000. According to HousingWire, this represents a new peak in home prices and a rise of 2.3% from the start of 2017.
Housing experts do agree that sooner or later, these conditions will change – especially as homebuilders bring more inventory to the market. They expect more people to begin selling their homes, and feel that the slowly rising mortgage interest rates will cool the current home price appreciation levels.
However, they predict that this will continue to take some time.
Sources:
The MReport – themreport.com
HousingWire – housingwire.com