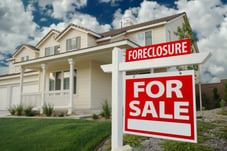 According to Black Knight Financial Service's "First Look at December 2016 Mortgage Data" report, the foreclosure rate for 2016 had the largest improvement of any year on record.
Black Knight's report found that the foreclosure inventory rate was down by 30.53% in 2016, and that the inventory of loans in active foreclosure had declined by more than 206,000. This means that homes in active foreclosure now represent only 0.95% of all U.S. homes that currently have a mortgage.
The percentage of loan delinquency rates which were past 30 days due, but not yet in foreclosure, was at 4.42% in December 2016 – a decline of 7.49% from the previous year. In addition, there were 24% fewer foreclosure starts this past December compared to December of 2015.
DS News pointed out that the elimination of problematic, high-risk loans—which dominated mortgage lending during the 2008 housing crisis—helped pave the way for newly structured loans, which have a much lower level of risk and chance of default. The end result? A lower overall foreclosure rate nationwide.
Sources:
Black Knight Financial Services, Inc. – bkfs.com
DS News – dsnews.com
Mortgage News Daily – mortgagenewsdaily.com
HousingWire – housingwire.com