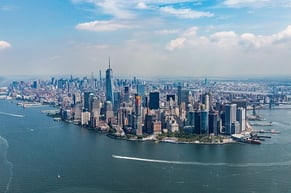 Next week, several Global DMS executives will be attending the MBA's National Secondary Market Conference at the New York Marriott Marquis in New York City, where they will be conducting one-on-one meetings and participating in several events.
Designed for industry leaders and decision makers from both residential and capital markets, this unique conference will bring together industry regulators, experts, and key officials to help inform and educate attendees on the latest happenings within the mortgage industry.
For more information, please visit the conference's official website.
Global DMS Involvement:
Global DMS will have several executives attending this event, including our CEO, Vladimir Bien-Aime, VP of Marketing, Jody Collup, and Executive VP of Sales, Mac Chiles. All three will be in attendance for the duration of the conference, and look forward to both connecting and reconnecting with the many renowned mortgage industry professionals that will be present.
While on site, Vlad, Jody, and Mac will be available to answer any questions you may have about our company or its various appraisal management software solutions, so please don't hesitate to seek them out.
In addition, those that are interested in scheduling any last minute one-on-one meetings with Vlad, Jody, or Mac may do so by submitting a request to productinfo@globaldms.com.