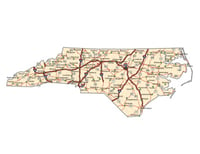 Last month, North Carolina Governor Pat McCrory signed H.B. 651 into law, which officially becomes effective on October 1, 2015. The new legislation will eliminate the Discovery Rule for civil actions related to real estate appraisals, and also establishes a 5-year statute of limitations to help bring the state's requirements in line with the Uniform Standards of Professional Appraisal Practice (USPAP).
Specifically, H.B. 651 will no longer allow civil actions to be filed against an appraisal if the records of said appraisal have surpassed the mandatory period of record retention established under USPAP, or 5 years – whichever is greater. The new bill will also require Appraisal Management Companies (AMCs) to accept any criminal background check that was performed within the previous 12 months.
In addition, H.B. 651 will also eliminate the need for appraisers to submit separate background checks to each AMC they conduct work for. As of October 1st, appraisers will be able to cycle a single up-to-date background check to each AMC – streamlining the process and reducing costs.
The new legislation applies to contracts entered into, renewed, or amended on or after October 1, 2015, and was supported by the Appraisal Institute's North Carolina Chapter and the North Carolina Real Estate Appraisers Association.
For more information, or to view H.B. 651 in its entirety, please click here.
Sources:
North Carolina General Assembly – ncleg.net
Valuation Review – valuationreview.com