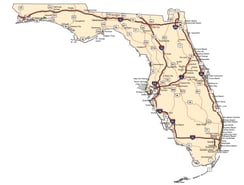 Last week on July 1st, Florida's new Senate Bill 608 legislation was officially enacted, creating several changes for both registered trainee appraisers as well as appraisal management companies (AMCs) that operate within the state.
The new bill has revised the supervision requirements for registered trainee appraisers, requires an AMC to prepare and retain an order file in certain circumstances, and gives agents within the Florida Real Estate Commission the authority to inspect an AMC during all reasonable hours.
Senate Bill 608 specifies the work file documentation that appraisers and registered AMCs must retain, and requires that an appraiser's work file meet the standards of the Appraisal Standards Board of the Appraisal Foundation – as established by rule of the Florida Real Estate Appraisal Board.
The new bill also removes an old provision that prevented the Florida Real Estate Commission from inspecting or copying an AMC's records unless it was in connection with a pending investigation or compliant; thus giving them full access to this information at all times.
In addition, Senate Bill 608 also removed another old provision that required a written agreement between Florida and other states for the reciprocal licensing of out-of-state appraisers.
For more information or to see the bill in its entirety, please visit the Florida Senate's website.
Sources:
The Florida Senate – flsenate.gov
The Florida House of Representatives – floridahouse.gov
Space Coast Daily – spacecoastdaily.com