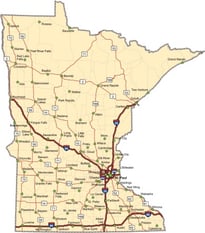 According to a recent report conducted by the Columbia Institute, appraiser licensees and appraiser license applicants in the state of Minnesota must now consent to a criminal history record check and submit a fingerprint card under the following circumstances:
Whenever an individual applies for an initial resident real estate appraiser license.
Whenever an individual renews a resident real estate appraiser license in 2015 or 2016 who was not previously fingerprinted in connection with their Minnesota appraiser license.
Based on both the federal and state requirements that govern real estate appraiser licensing, the Minnesota Department of Commerce will no longer issue or renew a real estate appraiser license before receiving the individual's background check results. It's important to note that an FBI background check can take several weeks, so results will not be immediate.
The Minnesota Department of Commerce is strongly encouraging appraisers to get their fingerprints taken electronically at a PSI test center before the state's renewal period opens on July 1, 2015. The earlier an appraiser's fingerprints are submitted, the greater the chance that their background check results will be received by the department in time for their license to be renewed.
For more information and to see a list of helpful FAQ's, please visit the Minnesota Department of Commerce's website.
Sources:
The Columbia Institute – columbiainstitute.org
Minnesota Department of Commerce – mn.gov/commerce