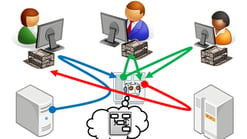 We all know that conducting a real estate appraisal takes time to ensure accuracy – no argument there. The real argument, however, is why does it take so much time to get this accurate information to the right people or place? Isn't that what software is for?
Though most providers of appraisal management software claim that their platforms are fully automated (a.k.a. workflow-driven), they are not and still require a lot of manual input from users in order to trigger key business processes – such as file delivery. This inevitably slows your operation, delaying the closing of your loans.
Only one platform on the market truly provides the FULL automation you're looking for – eTrac® and its Workflow Engine app.
What Could a Productivity Boost Do for Your Business?
eTrac's Workflow Engine app is a status-driven tool that allows users to design and trigger automated actions based on the statuses of their appraisal orders. Over a dozen "Workflow Actions" are available, and can be built around any standard or custom appraisal status that has been created.
The Workflow Engine app also includes specialized "Workflow Actions" for users of certain Web Services, including Client API Integrations, Vendor API Integrations, LOS Integrations, and more.
Best of all, these "Workflow Actions" can be configured to process once, always, or only when the order status changes – giving users plenty of options and full control over their automated processes.
Examples of Functionality:
Creates automatic email alerts based on an order's status.

Auto-assigns reviewers, supervisors, engagers, etc. to orders as they move through various statuses.

Drives the appropriate staff to stalled orders.

Automates manual tasks, like UCDP submission and file delivery.
Benefits of Automation:
Increases productivity by helping your staff complete routine tasks more quickly.
Decreases costs by shortening order turn-times.
Reduces mistakes by letting eTrac shoulder the responsibility of common tasks.
Simply put, eTrac is the ONLY platform on the market with such a powerful tool and unique functionality.
For more information on eTrac's Workflow Engine or the eTrac platform as a whole, please call 877-866-2747 (option 2) or email productinfo@globaldms.com.