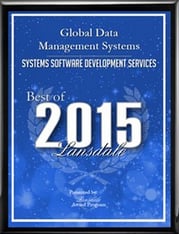 Global DMS is pleased to announce that our company has been named as the recipient of a local business award from the Lansdale Award Program for the 3rd consecutive year.
We were again recognized in the System Software Development Services category for our company's dedication and successful efforts in continuing to grow the business. The award also acknowledged our company as exemplifying a small business that leads through innovation, customer service, and community involvement.
Notable is that the selection process did not use any formal nominations or surveys and was completely unsolicited.
For more information, check out the official press release.