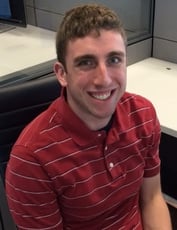 Several weeks ago, Global DMS added another member to its expanding Development Department by hiring a new Software Developer, Michael Shoolbraid. Equipped with a solid resume and extensive software knowledge, Michael began his tenure with the company on June 15th, and is already hard at work developing and configuring code for numerous projects.
As the new Software Developer, Michael is primarily responsible for developing and maintaining some of Global DMS' newest software systems and next generation of products. He will also be working on various integration projects to help ensure their timely release.
Prior to joining Global DMS, Michael first worked as a Systems Developer for Andesa Services from 2011 to 2013. While there, he was primarily responsible for maintaining and enhancing the company's life insurance policy administration software suite to help improve the system's efficiency.
Michael then moved on to medInt Holdings, LLC, where he worked as a Software Developer from 2013 to 2015. As the Software Developer, he conducted maintenance of all the back-end Java data-processing applications, and also helped with the UI development – creating some specific components therein.
Michael attended Gettysburg College, where he earned a Bachelor of Science degree in Computer Science in 2011.