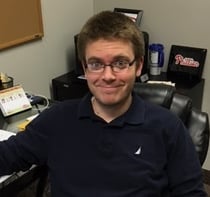 This past April, Global DMS hired Greg Snyder to fill the company's Senior Accountant position. Equipped with a solid resume, Greg brings roughly 14 years of corporate accounting experience with him to Global DMS, where he will help manage the Accounting Department.
As the new Senior Accountant, Greg is primarily responsible for performing any and all duties within the company's monthly accounting cycle. This includes maintaining Global DMS' in-house billing system, managing monthly invoices, compiling journal entries, completing balance sheet reconciliations, performing financial analysis, completing financial statement compilations, performing general ledger accounting, and participating in special projects as needed.
Prior to joining Global DMS' Accounting Department, Greg worked within the accounting field for nearly 14 years at a variety of companies – including Guggenheim Partners, The Fairman Group, and Gambone Management Company, among others. He is a graduate of the University of Scranton, where he earned a Bachelor's Degree in Accounting and a Minor in Finance, as well as a graduate of Saint Joseph's University, where he earn a Master's Degree in Accounting. In addition, Greg has also earned his CPA.