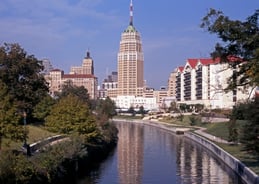 From May 3rd through the 5th, Global DMS' Chris Palermo will be attending the TMBA's 99th Annual Convention at the Hyatt Regency Hill County Resort and Spa in San Antonio, Texas, where he will be conducting one-on-one meetings and participating in several events.
As usual, this year's convention will present many opportunities for the entire mortgage community, and will feature a large exhibitor lineup, numerous speakers, and unique social events for networking purposes.
For more information, please view the convention's official webpage.
Global DMS Involvement:
Global DMS' Sales Manager, Chris Palermo, will be in attendance for the duration of the convention, and is excited by the opportunity to both connect and reconnect with the many renowned professionals that will be present. While on-site, Chris will be available to answer any questions you may have about our company or its various products, so please don't hesitate to seek him out.
Those that are interested in scheduling any one-on-one meetings with Chris may do so by sending a request to productinfo@globaldms.com.
About Global DMS:
Founded in 1999, Global DMS is a leading provider of both residential and commercial real estate appraisal management technology that's catered towards lenders, AMCs, appraisers, and other real estate entities. Our all in one collateral management system known as eTrac® promotes compliance, improves workflow, and is completely cost-effective thanks to its cloud-based design.
For the latest company updates, be sure to follow us on Facebook, Twitter, and LinkedIn.