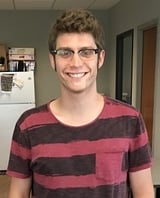 Global DMS recently expanded its Development Department by hiring a new Software Programmer, Daniel Cardillo. Equipped with a solid resume and extensive software knowledge, Daniel brings roughly 9 years of experience with him to the company, and is already hard at work developing and configuring code.
As the new Software Programmer, Daniel is primarily responsible for the maintenance of Global DMS' eTrac Valuation Management Platform – a leading enterprise technology solution that provides the mortgage industry with an efficient way to effectively manage the entire valuation management process. He will also work in conjunction with the company's Integrations Team to help ensure the timely release of various projects.
Prior to joining Global DMS, Daniel first worked at iPipeline as a Software Consultant, where he implemented and tested various types of online insurance forms. He then became a Software Consultant for Innovative Solutions & Support, where he performed quality assurance for the company's avionics software – testing and review code revisions.
Daniel's final stop before Global DMS was at Softrip, in which he worked as a Senior Software Developer and Project Manager. While there, he wrote and developed web-based code for various projects, designed webpages via HTML, and worked with clients to implement and adapt the company's software solutions to their specific business models.
Daniel is a graduate of Drexel University, where he earned a Bachelor's Degree in Computer Science.