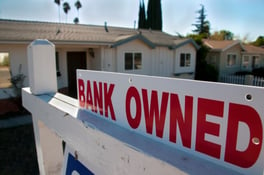 According to CoreLogic's June 2015 National Foreclosure Report that was released in mid-August, the United States' current foreclosure inventory rate has officially dropped to 1.2% (472,000 homes) – its lowest level since 2007. June, which saw a 30% decrease in inventory from the previous year, marked the 44th consecutive month that the country's foreclosure inventory rate has declined year-over-year.
Completed foreclosures—which help show the actual number of homes lost to foreclosure—also saw a significant year-over-year decline in June, falling by nearly 15% from 50,000 to 43,000. As shown in CoreLogic's report, completed foreclosures are now down 63.3% overall on a monthly basis since the peak of the housing crisis back in September 2010 – which saw nearly 117,000.
In addition, the serious delinquency rate—or the share of residential mortgages that are more than 90-days overdue (including foreclosures and REO's)—also dropped significantly this past June to 3.5%. This equates to roughly 1.3 million homes, and is the lowest level seen since January of 2008.
Even with the national foreclosure inventory rate reaching pre-recession levels, the rate still remains high in a few select areas that were hardest hit by the crisis – including Florida and New Jersey. Likewise, the monthly completed foreclosures rate is still more than double its pre-recession totals, which only averaged around 21,000 per month between 2000 and 2006.
To see CoreLogic's June 2015 National Foreclosure Report in its entirety, click here.
Sources:
CoreLogic – corelogic.com
DSnews – dsnews.com